Course in Life Cycle Thinking attracts different roles and companies
Thursday, 17 October, 2019
The life cycle perspective, understanding the environmental impacts of a product or service throughout the value chain, is gaining increased importance in business as well as in public sector and authorities. On October 8-9 the Two-day course in Applied life cycle thinking attracted participants from various sectors, to learn more about Life cycle assessment (LCA) and how to apply it in their companies.
The course aims to give a deeper understanding to the life cycle perspective, life cycle assessment and its role for sustainable development in various organization. Participants were an extent of senior and junior environmental consultants, environmental and sustainability managers, analysts, engineers and jurists from small and big industries, consult companies and authorities. They all had various knowledge of sustainability issues as well as LCA. They showed great interest in areas such as allocation, environmental communication and the development of life cycle thinking within Europe. One strength of the course is that it captures people at different levels of knowledge and interest.
– "The participants were very engaged and eager to learn more about life cycle thinking, they almost didn´t want to stop at the set time on the first day", says Karin Sanne, course leader.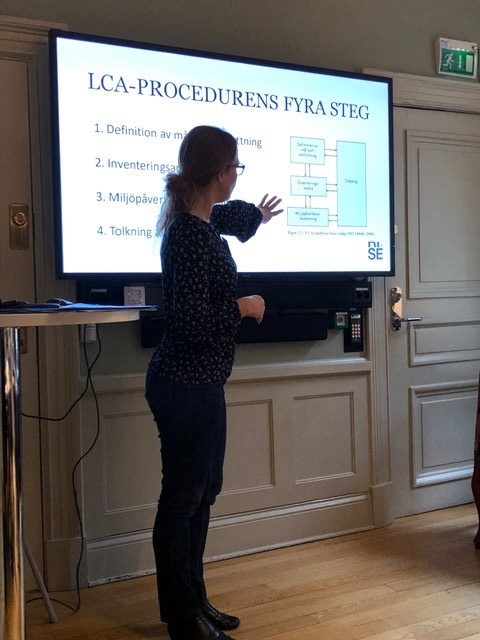 The course provides knowledge in:
How a life cycle perspective affects companies and authorities.
What LCA is and what benefit it can give you.
Specific application of the lifecycle perspective in various functions and activities, eg in procurement and environmental communication.
Product Environmental Footprint and other life cycle-based policy development nationally and globally.
Implementing life cycle thinking in your organization.
Some reflections from the participants:
– "Very good that it also gave knowledge about how to communicate and create impact on your own organization."
– "The course gave a respect for LCA as a tool – that it is complicated but also valuable and useful. Now I can easier ask the right questions and analyzing claims and seeing the complexity as its whole."
– "The course as a whole was very good, it covered many areas."
– "Parts that I will mainly include in my future work are Monetary valuation, methodology and communication."
– "I was hoping to gain a wider understanding of both LCA as a tool as well as the application of life cycle thinking. After the course I feel that I have a much better understanding of applications and what type of situations the tool and perspective are suitable for."
More information:
Next opportunity to take the course is November 12-13 in Stockholm. Please contact us for further information: lifecyclecenter@chalmers.se
Read more about the course here.
Text: Jenny Lagergren
Photo: Maria Rydberg