Applied Life Cycle Training for Electrolux
Thursday, 12 May, 2022
Swedish Life Cycle Center's two-day courses are an open opportunity for participants from any organization to learn more about the life cycle perspective. The courses can also be offered to a specific group, and in the recent months over 40 professionals from Electrolux have participated in a shorter version of the Applied Life Cycle Thinking course.
The aim for Electrolux was to create more engagement and higher understanding for the life cycle perspective among their staff. Electrolux employees from all over the world participated in the course during two half days and were given some homework between the course occasions.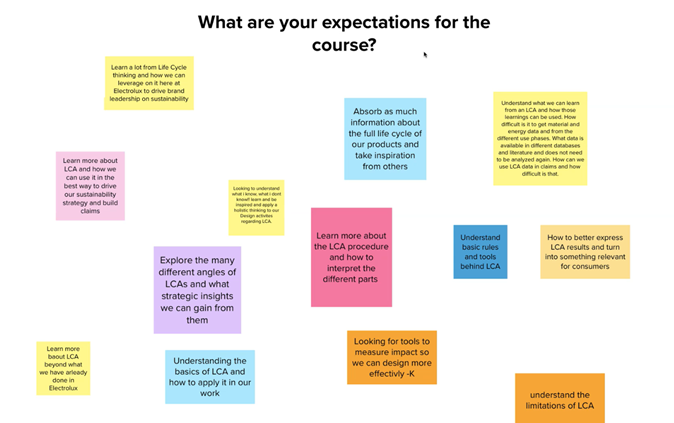 After receiving the participants' expectations for the course, the course leaders, Torun Hammar from RISE and Kristian Jelse from Greendesk, guided the participants through the content of the course. From life cycle thinking around us, through basic knowledge about life cycle assessment (LCA) to applications such as marketing and communication. Group work and interactions were an important part of the course and the participants worked together to, for example, discuss the functional unit for a washing machine and given results from an LCA, how and to whom should it be communicated.
Life Cycle work within Electrolux
Stefano Zuin, Environmental Impact Assessment Leader at Electrolux also presented current and future work with the life cycle perspective and LCA within Electrolux. And as a last exercise all participants were asked to think about, and write down, their own next step in how they were going to utilize their new knowledge and how they could support and make use of the life cycle perspective within Electrolux.
The Applied Life Cycle Thinking course were well received by the participants and several eyeopeners regarding how to use results or how to participate in data gathering was offered. With this course Electrolux have taken a big step towards their goal and laid the foundation for an increased knowledge and use of the life cycle perspective among their staff. As partner to Swedish Life Cycle Center the course participants will also have the chance to participate in events and projects arranged within the Center to continue to learn and network.
More information