"We see problems as challenges!"
Monday, 12 February, 2018
The core of Swedish Life Cycle Center is networking. Networking, knowledge building and international reach within life cycle thinking. For professionals in the life cycle field the reoccurring network conference arranged by the center exclusively for partners is often a highlight of the year. On February 7, 2018 the network conference with the title "The role of life cycle thinking in a circular economy" was arranged in Gothenburg; this time together with the project Swedish platform for the life cycle perspective, funded by the Swedish Energy Agency. The aim was to network, engage, inspire, exchange knowledge and hopefully find new cross roads for collaborations around Circular economy and Life cycle thinking.
The hall at Lindholmen Conference Center gathered more than 60 professionals from research, industry, academia and government agencies. 23 organizations were represented and 10 different issues were discussed.
The Government's work
Per Bolund, Minister for Financial Markets and Consumer Affairs & Deputy Minister for Finance started up with a presentation about the Government's work towards sustainable consumption and circular economy.
"We will become one of the first fossil-free welfare states 
and Circular economy as well as Life cycle thinking are important to reach that goal."
Bolund gave an overview of the key challenges and main moves that the Government has made and will make in order to support a sustainable development and Circular economy specifically.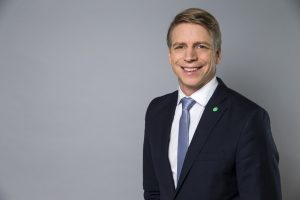 Design & use phase hand-in-hand
While Per Bolund was focusing on economic incentives and Innovation programs to support a sustainable development, next speaker Mattias Lindahl was putting most of his focus on user behavior. Lindahl is Professor at Linköping University and head of Mistra REES – Resource-Efficient and Effective Solutions. With the brilliant examples of underwear, tooth brushes and towels he played a game with our preconceptions.
"Most of you have no problems drying yourself with a reused towel in a hotel room, but would you wear second-hand underwear? Probably not. We need to change these inverse patterns."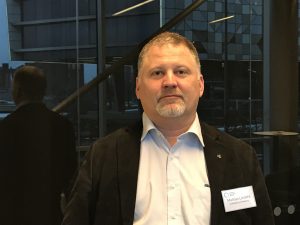 Workshop sessions for further networking
During the work shop session that followed, 7 different session leaders had the chance to discuss their topics in groups. The topics stretched from recycling, over policy instruments, to business models and design. The activity in the groups was high, the atmosphere was positive and the sessions opened up for future collaborations like research projects and further discussions.
All in all it was a positive day, full of that inspiration and energy needed to attack the challenges ahead of us.
Lars Mårtensson, chair of the Swedish Life Cycle Center's Board and Director Environment and Innovation at Volvo Trucks highlighted the strength of the center – the members:
 "We have a lot of challenges ahead of us and the strong engagement from partners is very promising for the future. Our strongest assets? That we don't see the problems as problems, but as challenges!"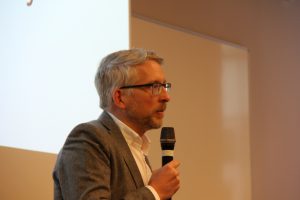 Text & photo: Ulrika Georgsson
Network Conference: The role of life cycle thinking in a circular economy