'Towards Sustainable Future' – The life cycle community gathered in Poznan for a three-day long conference on Life Cycle Management
Monday, 09 September, 2019
Conference reflections and report from 9th International Conference on Life Cycle Management (LCM 2019)
The 9th International Conference on Life Cycle Management (LCM 2019) took place between 1rd– 4thSeptember 2019 in city of Poznan, Poland. This conference, hosted by Poznan University of Technology, brought around 500 participants from over 30 countries. 'Towards Sustainable Future' was the theme of the conference, of which focus was on the practical aspects of products, technologies, organizations, markets, policy and methodological solutions.
The conference is one of the world's leading forum for environmental, economic and social sustainability where the life cycle community get together for three busy days. The program included 38 sessions and over 190 oral presentations with topics such as LCM for electric and electronic products, sustainable health management, sustainable mobility, social impact assessment methodologies and designing sustainable lifestyles.
Jadwiga Emilewicz, Polish Minister of Entrepreneurship and Technology gave one of the most memorable speeches during the first day. She raised the importance of circular economy and LCA to tackle our current and common challenges.
"We don't want you to become dinosaurs, we don't need superheroes, we need you as a community". / Michele Galatola, LCM 2019
The second day, keynote speaker Michele Galatola,policy officer at the European Commission and DG Environment encourage the audience to act as a community and a single voice in some challenges related to LCA and LCM, in order to influence the development towards a sustainable future. He particularly highlighted challenges and questions such as:
– How LCA methods can take into account biodiversityHe said that the LCA community shall focus its attention to this issue otherwise there is a "risk" that alternative approaches will be selected (instead of Environmental footprint based on LCA).
– He also raised the importance of having enough competent and independent third party verifiers, since this will be a central element of any future performance-based product policy. "Do we have enough LCI/LCA verifiers all over the world, and are they sufficiently qualified? Are we training the right way at universities?". Galatola also raises the importance of addressing social impacts along the value chain, since there is an increasing attention to social issues. So overall,  many important take home messages for the audience and urgent questions for the life cycle community to continue to work on – so that we can influence better in future policy making processes. We, representatives from Swedish Life Cycle Center, are happy to continue to contribute to these issues.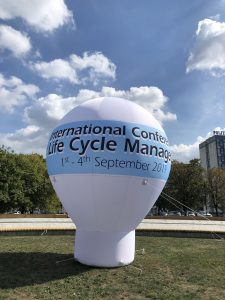 The conference gathered participants from both academia, business, research institutes, public institutions, government and NGO:s from countries all around the world, however the majority from Europe. Sweden was well represented and Swedish Life Cycle Center's partners as well during the conference, both in the scientific program and as conference delegates. The summary below conference reflections captures the participation and contribution at LCM 2019 by partners in Swedish Life Cycle Center through a compilation of oral and poster presentations.
Some conference reflections from partners
"Attending LCM2019 was a great way of keeping up with interesting research on LCM. It was especially nice to see that Sweden was well represented as presenters (oral and posters) and session chairs and helped to make the conference a positive experience for participants from all over the world."
Hanna Lindén, RISE
"LCM2019 has been a great opportunity to meet with academia, institutes, authorities and industry throughout the lifecycle of products. Connecting global challenges to industry requirements while highlighting current developments and challenges in LCA and LCM. It has been an inspiring occasion to better understand the current status of life cycle methods, while meeting with a wide range of practitioners from all over the globe."
Mats Berglund, SKF
"LCM conference was a great success in terms of sharing our research in an international environment, gathering new ideas and discuss results and possible collaborations. LCM showed that several studies are being carried out on LCA and calculation of environmental footprints on different products from different industries. In addition, several methods and tools are being developed to ease the path to move towards sustainability. It is safe to say that there was a consensus that sustainability is the goal and circular economy is an enabler to it but not the goal itself. Keywords such as Plastics and Electric and Electronic products combined with Circular economy and LCA were dominant among several discussions. I believe the number of participants from Sweden (and in particular RISE and Chalmers) was also significant which puts Sweden on the map in the research area of LCA, circular economy and sustainability. However, more participation from Swedish manufacturing industry would be more desirable." 
Sasha Shahbazi, RISE
"Something I really appreciated about this year's conference was the attention given both from the keynote stage and during discussions in coffee breaks for how the LCM community should lead the way by reducing its own environmental footprint. Who better than us to lead by example to inspire others to take action?"
Kristian Jelse, EPD International and IVL Environmental Research Institutes
"I thought it was a nice and well-run conference,once you were there.Most presentations I attended were very much about industrial solutions, for example.software for structuring product information and automated calculations, but not with the scientific level you could expect.An important message was not to make greatpolicy decisions (for the environment) withoutreflectingon any negative consequences."
Peter Ylmén, RISE Built Environment/Building Technology.
Presentations by partners at LCM 2019
Case study LCA on automotive light weighting, using different datasets
Martin Kurdve (Chalmers University of Technology), Mats Zackrisson (RISE)
Modeling materials recycling
Tomas Ekvall(Chalmers University of Technology) Anna Björklund (KTH), Kristian Jelse (IVLl), Jenny Lagergren (Chalmers University of Technology/Swedish Life Cycle Center)
The circular customer
Emma Rex (RISE) Maria Thomtén, Fredrik Norefjell, Staffan Appelgren, Nina Wolf, Natalie Hafdelin, Anna Bohlin
Metal and plastic recycling flows in a circular value chain
Sasha Shahbazi (RISE), Patricia van Loon (CIT), Martin Kurdve (RISE), Naoko Tojo
Plastic litter cleanup operations: learnings from 4 LCAs
Henrikke Baumann (Chalmers University of Technology)
Valuation of abiotic resources in life cycle assessment
Göran Finnveden, Lina Isacs, Cecilia Håkansson (KTH Royal Institute of Technology)
Improved communication of scale and severity of environmental impacts
Frida Røyne, Louise Quistgaard (RISE Research Institutes of Sweden)
Innovation Camp – A tool for Circular Economy product development
Hanna Nilsson Lindén (RISE), Teemu Santonen
An approach to handling uncertainties in LCA as decision making support for building design
Peter Ylmén, Johanna Berlin (RISE)
8 ton society Sweden – assessing the material footprint of sharing and circular lifestyles in housing, mobility and food
Birgit Brunklaus, Maria Schnurr, Ulf Sonesson (RISE)
Poster presentation from center project
First implementation of the ISO 14008 standard in a database on monetary values of environmental impacts and related aspects
Tomas Rydberg (IVL), Bengt Steen, Johan Tivander (Chalmers University of Technology)
Text: Anna Wikström
Photo: Anna Wikström