Webinar: Achieving resource efficiency
Date:

Thursday, 01 January, 1970
Time:

00:00 - 00:00
What measures for resource efficiency and circularity are suited for  what type of products? This webinar is for you who has an interest in circular economy and the physical measures that can be used to implement it, on a product level. Anne-Marie Tillman, Professor at Chalmers University of Technology, will present recent work from her research group.
Content
Circularity and resource efficiency are the latest sustainability buzzwords. The lists recommending what are the best means to achieve circularity are plentiful, 3Rs, 4Rs, 6Rs and 9Rs, the Rs denoting measures like reduce, reuse, recycle, recover etc.
However, to what extent are prioritized lists of measures, such as the waste hierarchy, really useful when applied to real products? Not all measures for resource efficiency are equally applicable to all products. In addition, products are often complex, requiring that more than one measure is taken at the time and different measures are interdependent. There are also trade-offs, such as that use phase efficiency often requires that more materials and energy is invested when producing the product.
During this webinar Anne-Marie Tillman will present recent work on what resource efficiency measures work for products with different characteristics. What kind of products can be reused in a meaningful way, for what kind of products does sharing lead to resource efficiency and when is it more important to address the production phase and try to reduce resource use there? Examples will be based on a large literature review as well as on case studies conducted in her group. These include both durable and complex products such as vehicle components and electronics and consumable products such as incontinence products.
There will be time for questions and discussion after the presentation.
WHAT: A webinar about circular economy with Professor Anne-Marie Tillman
FOR WHOM: For partners only
ARRANGED BY: Swedish Life Cycle Center, through the project Swedish platform for the life cycle perspective.
HOW: Online meeting with Skype. Join the meeting with your computer or phone. Login in details to the webinar will be sent to all registered participants before the meeting.
About the speaker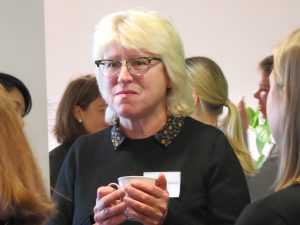 Anne-Marie Tillman
Ann-Marie Tillman is a Professor at the Division of Environmental Systems Analysis at Chalmers University of Technology. She has a long history as a researcher within the life cycle field and is one of two authors of the textbook The Hitch Hiker's Guide to LCA. Anne-Marie Tillman chairs the Scientific Advisory Group of Swedish Life Cycle Center and has been a main player in the center since its start. Her research field is methodology and application of LCA, currently focusing the circular economy. She leads Chalmers' work within Mistra-REES – Resource efficient and effective solutions and an FFI-project on design of electric traction motors for a circular economy as well as taking part in several other projects on related topics.
For partners and Government Agencies in collaboration with the center